In Memory
Becky Jean Hull (Davis)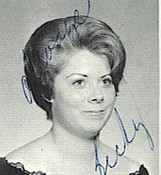 Born: August 17, 1951
Died: November 6, 2014
Mrs. Becky Hull Davis, 63, of Lexington, passed away Thursday, November 6, 2014.

Becky was born August 17, 1951 in Forsyth County to the late Ralph and Louise Hull. She was the owner of Inman and Davis Pest Control in Winston-Salem. An honest and compassionate person, Becky enjoyed being the caretaker of her large family. She will be fondly remembered as an extremely generous, loving, and talkative person. Becky's greatest joy of all was being a mother, grandmother, and sister. In… addition to her parents, she was preceded in death by her husbands, James Inman and Henry Davis, and brother, Ray Hull.

Becky's memory will be dearly cherished by her daughter, Joy Crosby and husband Robert of Raleigh; grandchildren, Ellie Crosby and Everette Crosby; brothers, Terry Hull of California, Gray Hull (Donna), Randy Hull (Karen), and Al Gwyn Hull (Vern), all of Winston-Salem, Roger Hull (Sandy) of Pfafftown, Tony Hull of Washington, D.C., and Larry Hull (Mary) of Summerfield; sisters, Carol Chipman (Tony) of Tobaccoville, Pat Stallworth of Lexington, Linda Woody (Al) of Kernersville, and Virginia Ebersole of Harrington, KS; stepson, Brian Davis (Sherrah); step-grandchildren, Jonathan Davis, Rebekah Davis, Charity Davis, and Timothy Davis, and sister in law Bernice Hull; and numerous nieces and nephews.

A celebration of Becky's life will be held Sunday, November 9, 2014 at 2 pm at Hayworth-Miller Silas Creek Chapel. The family will receive friends immediately following the service.