In Memory
Kenneth Walter Matthews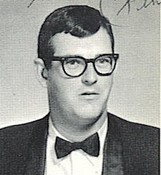 Born: 11/12/1948
Died: 05/08/2007
Kenneth Walter Matthews age 58, of Winston-Salem, died Tuesday, May 8, 2007 at Forsyth Medical Center after a long illness. Mr. Matthews was born in Forsyth County on November 12, 1948 son of the late Walter Matthews and Helen Phelps Matthews.
He was retired from the City of Winston-Salem, recreation and maintenance department. He was a volunteer fireman at Triangle Volunteer Fire Department for 35 years, where Ken was the acting chief when the department closed.
He is survived by his wife of 19 years, Patricia Vogler Matthews of the home; daughters Jody Matthews and Fiancée Adam Schwartz of Brooklyn, NY and Melissa Matthews Harrison and husband Todd of Essex, MD, also survived by his granddaughter Jade Harrison of Essex, MD.